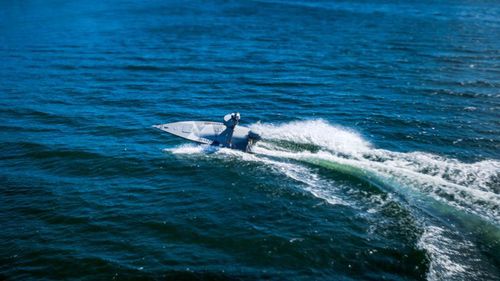 Autonomous research platform
The Piraya is an autonomous boat (USV) by SAAB Kockums, used in WARA-PS as a research platform equipped with cameras, LIDAR, AIS etc. for data collection and collaborative field tests as an autonomous agent. By mounting cameras and sensors on the small boat, an operator or field agent could get live video footage streamed to their devices.
The Piraya can also perform lighter towing and collaborate with the quadcopters in a heterogenous system.
ABILITIES & RESEARCH AREAS INCLUDE
Robot-to-robot communication
Collaboration in a heterogenous system
CAPABILITIES & LIMITATIONS
Deliver objects
Tow object (e.g. gasoline)
Transport smaller objects onboard
Pick up objects
Transport smaller objects
Search area
Visually through video feed
Internal communication
Shared situation awareness
External communication
Lamps (e.g. for acting as a navigation mark)
Collaboration
Act as a landing platform
Updated situation
Shared situation awareness